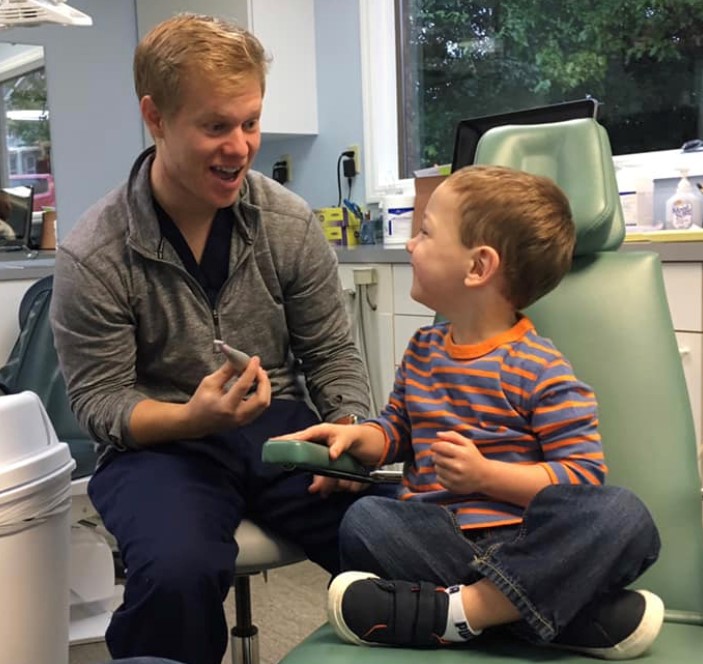 Every child of Fairfield Pediatric Dentistry ("Chew Chew Junction") will be treated equally by our team and given the highest quality pediatric dental care that can be delivered.
Our philosophy is based on the principles of high-quality dentistry, friendly service, cleanliness, and treating every patient as if they were a family member.
Dr. Brad Skelton, Dr. Richard Kennedy, and the Fairfield Pediatric Dentistry team are dedicated to delivering advanced dental solutions tailored to each child and family's needs.
We are experienced professionals, treating every patient as we would our own family member: gently and patiently, always striving to foster trust and friendship. Beyond their dental needs, we enjoy getting to know our patients and look forward to catching up with them at visits.
Making Dental Visits Fun!
Children's early dental experiences can set the tone for their feelings about dentistry for the rest of their lives. We strive to make every visit stress-free and fun so the child learns that taking care of their smile's health is a normal, even enjoyable, part of growing up.
We have designed our offices to be completely child-friendly. From movies, toys, and trains in the reception areas, to iPods/iPads and Gameboys in the treatment rooms, we strive to keep kids entertained and distracted throughout their visits. Many parents tell us their little ones are excited when they learn they get to come back!
Why Choose Fairfield Pediatric Dentistry?
We expect children to behave like children. We don't expect them to conform to our desires; instead, we adapt to meet them and their needs, learning who they are and sharing in their lives. We work hard to get to know our patients and build open, age and developmentally-appropriate communication. By encouraging questions and interacting in a non-threatening manner, we are able to quickly set an apprehensive child at ease. Soon they are laughing and joking with us and many times they don't want to leave!
We partner with parents. It is important that parents are active, informed participants in their child's dental health. We welcome parents to join their child in our clinic area during visits and encourage their questions. We clearly explain treatment recommendations, walk families through options, and make sure everyone knows what will happen during a visit.
We focus on prevention. In addition to regular exams, cleanings, and preventive care, we teach children and parents about good home dental hygiene. By stopping issues from starting, and correcting small issues before they become big problems, we help smiles grow healthy and strong!
Schedule a Visit
Chew Chew Junction has two convenient locations, in Fairfield and Oxford, OH, serving all nearby towns. Please contact us to learn more about how we can help you help your child grow up with a beautifully healthy, lasting smile!